Error Message "Override of calculated value" when printing or running Verify in a tax return
Error Message "Override of calculated value" when printing or running Verify in a tax return
 SYMPTOMS
 When you try to print or transmit a tax return, an error message similar to the following appears:
'Override of calculated value'
 CAUSE
 This issue can occur if a calculated value is overridden in the tax return.
 Calculated values are values that Simple Tax 1040 computes using data drawn from other boxes on other tax forms or worksheets.
This process maintains the proper relationship between forms attached to the tax return and ensures that when you change information on one form, it's changed on all of the other forms that share that data.
 RESOLUTION
To bypass this error message, follow these steps: 
When the error message appears, click Next.

Follow the instructions on your screen to print or transmit the tax return.
 To clear the error message and return the field to the calculated value, perform one of the following actions:
Right-click the overridden field and then click Clear Override.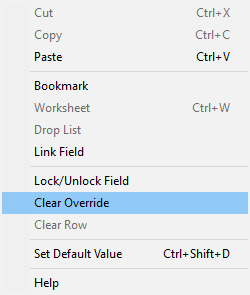 -OR-
Click the overridden field and then press F5 on your keyboard.