KIS Transmision en KIS Online y KIS Desktop
Este articulo es para mostrar paso a paso cono trnsmitir una declaracion al IRS.
Abra el programa de KIS Online o KIS Desktop
Abra la declaracion que desea transmitir (transmit).
Anted de poder mandar la declaracion electronicamente, tiene que ser marcada Completed y Reviewed. (Haga clic EDIT y haga clic COMPLETE)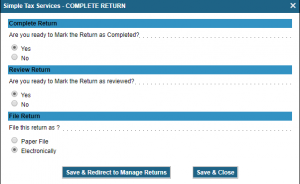 Despues debe crear una facture para la declaracion (Haga clic el boton de EDIT PAYMENT en CLIENT PAYMENT).

Despues de completar esos pasos, busque el enlace de "Ready to E-File" en la pagina de Client Manager.

Haciendo clic en Transmit Now lo llevara a la pantalla de transmision.

Haga clic en las cajillas apropiadas de federal y state

Haga clic en ya sea "Transmit Now" o "Add to Queue". (Transmit Now transmitira la declaracion imediatamente. Add to Queue pondra la declaracion en la cola de transmision en el programa para transmitir despues en otro momento.  El preparador tendra que ir a la transmission queue para transmitir la declaracion.)

El transmission queue es accedido haciendo clic en el icono de E-File.

Haga clic en la cajilla al frente del nombre del contribuyente.

Haga clic en el boton de "Transmit Selected Return" para mandar la declaracion al IRS o si tiene que hacer cambios a la declaracion haga clic en el boton de "Remove from Transmit Queue."