Form 5405 is not attaching to the return
The Form 5405 DOES NOT attach to the return. As you fill out the for 5405 it will calculate the information and present it on SCH 2 line 7b.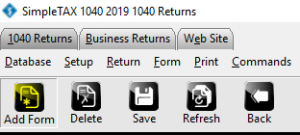 Make sure to check the box in Part 2 that states "Check here if the credit as claimed on a 2008 home purchase and you are completing Form 5405 to make the annual repayment of the credit".

Make sure to fill out Part 2 of Form 5405.

Once you complete the Form 5405, it will calculate the Repayment of the first-time homebuyer credit on line 7b of SCH 2.