How to back up your Simple Tax 1040 update files
How to back up your Simple Tax 1040 update files
 SUMMARY
 This article demonstrates how to backup your update files.
 MORE INFORMATION
 To perform a backup of the update files, follow these steps.
 RESOLUTION 
On the Utility menu, click Updates.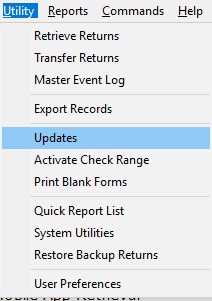 Select the updates you want to back up and then click Browse.

Click a drive and then click OK. You cannot back up updates to a sub folder of a drive. Select only a drive letter – for example, Local Disk C:.