How to delete a form or worksheet
How to delete a form or worksheet
 SUMMARY
This article demonstrates how to delete a form and all the supporting forms and worksheets associated with that form in Simple Tax 1040.
MORE INFORMATION
To delete a form or worksheet in Simple Tax 1040, follow these steps:
In the Attached Forms pane, right-click the form or worksheet you want to delete and then click Remove Form.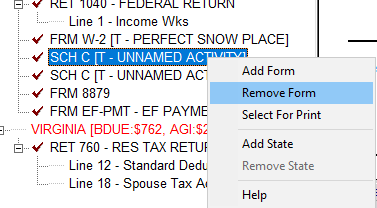 When the Delete Form dialog appears, click OK to delete the form.

Note: Some forms have dependent forms associated with them. When you delete one of those forms, Simple Tax 1040 also deletes the associated forms.