How to use Tax Estimator to quickly estimate a taxpayer's potential refund or taxes owed
How to use Tax Estimator to quickly estimate a taxpayer's potential refund or taxes owed
SUMMARY
This article demonstrates how to use Tax Estimator to get a quick estimate of a taxpayer's potential refund.
MORE INFORMATION
To print a Tax Estimator: 
From within a tax return, click Tax Estimator on the Return menu. Simple Tax 1040 takes you to Tax Estimator.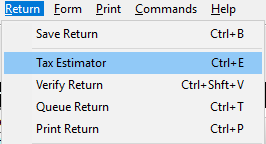 Complete required information. Simple Tax 1040 estimates the taxpayer's potential refund.
Note: Simple Tax 1040 will also open the Tax Estimator when you press Ctrl+E on your keyboard.