KIS Transmision en KIS Online y KIS Desktop
Este articulo mostrara paso a paso como transmitir su declaracion hacia el IRS.
Abra su programa de KIS Online o KIS Desktop
Abra la declaracion que desea transmitir.
Antes que pueda mandar la declaracion electronicamente, tiene que marcar la declaracion Completed y Reviewed. ( Haga clic EDIT y haga clic COMPLETE)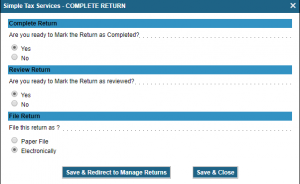 Ahora tiene que crear una facture para la declaracion. (Haga clic EDIT PAYMENT en el CLIENT PAYMENT).

Despues de hacer estos pasos, el enlace de "Ready to E-File" aparecera en la pagina del Client Manager del contribuyente.

Clic Transmit Now para navegar a la pagina para transmitir.

Haga clic las cajillas apropiadas como federal y state

Haga clic "Transmit Now" o "Add to Queue". (Transmit Now transmitira la declaracion imediatamente. Add to Queue madara la declaracion a la cola de transmission para transmitirla despues. El preparador debe ir a el transmission queue para transmitir la declaracion al momento deseado.)

El transmission queue es accedido por el icono de E-File.

Excoja la cajilla con el nombre del contribuyente.

Despues selecione "Transmit Selected Return" para hacer cambios a la declaracion haga clic en "Remove from Transmit Queue."