"Missing or invalid refund type" message when you run Verify
"Missing or invalid refund type" message when you run Verify
 SYMPTOMS
 When you try to electronically file a tax return, the following error message appears when you run Verify:
'Missing or invalid refund type'
 CAUSE
This behavior occurs the tax return contains a $0 refund.
RESOLUTION
To resolve this issue, follow these steps:
Within the tax return, click FRM 8879 on the navigation pane.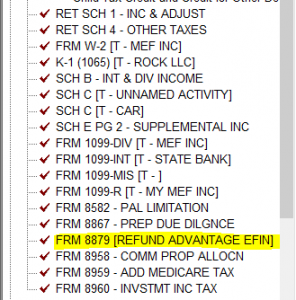 Type a disbursement method in the Refund Type box. If the refund amount is $0, specify 1 (Check) as the disbursement method.

Click Verify. The error message should no longer appear.