TPSC Bank ERO Enrollment Instructions
The objective of this article is to walk you through on how to enroll with the bank.
Note: MUST DO BANK ENROLLMENT ON KIS ONLINE!!
Login to your Keep It Simple online account.

Click on the SETUP tab at the top right corner

Click on the Bank icon on the left side of the screen, it is the fourth icon from the top.

Click on the green icon at the far right of your EFIN.

Select the bank you want to enroll with from the list and click SAVE AND CONTINUE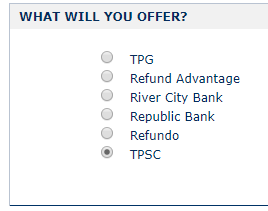 Answer the questions on your screen to the best of your knowledge and submit your application.